A special Christmas edition
Editor Matthew Aldridge writes
(to the tune of Wonderful Christmas Time by Paul McCartney):

The mood is right
The spirits up
igus plastics
are always enough

igus always saves you money and time
simply having a wonderful Christmas time

Moving parts
On your machine
Free samples to try
You'll see what I mean

igus always saves you money and time
simply having a wonderful Christmas time
Thank you for your business this year. All of us at igus wish you a joyful Christmas and best wishes for 2022. Matthew Aldridge
maldridge@igus.co.uk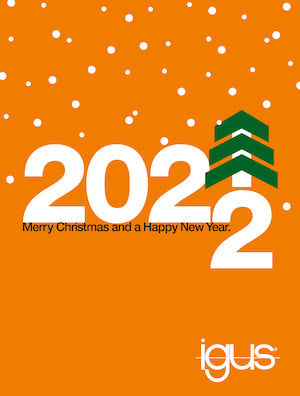 Final introduction of new products 2021
180 new products on the virtual-real trade show stand
The year is drawing to a close and that's another reason for us to speed things up: additional to our 180 new products in 2021, some other innovative ones have been added.
From more than 210 high-end chainflex® cables with UL to contactless monitoring of cables with smart plastics: on the web or during a personal tour, you can get an overview of our freshly redesigned virtual-real trade show stand.
You can see how the stand works and what advantages it offers in the video. Or you can simply visit it online in your own time. We look forward to seeing you at: www.igus.co.uk/IMPS
Have fun discovering the new products and ideas!
180 new products in 2021
With all new products in 2021 and an iF Design Award winner: our 400 m² real-virtual trade show stand has been freshly spruced up for your visit.
You can see how the stand works in this video.
Discover things on your own whenever you want to. Or you can get igus® specialists to show you the new products personally.
motion plastics® highlights at SPS
World's first manufacturer with UL approval for halogen-free TPE cables
Maximum load capacity in combination with UL AWM Style for over 210 cables. Increase of the service life guarantee* by 25% to 12.5 million double strokes. Time-consuming regular individual approvals become superfluous.chainflex® cables with UL
Contactless monitoring of cables
The new sensor electronics are "clicked" onto the cable at both ends. This allows measurement during ongoing operation without interference in the data link.
i.Sense CF.D II
Extending the working range of robots
With the 7th axis kit, the workspace of common lightweight robots can be expanded via our linear module (or linear axis). The robots are controlled via digital I/O's whereby all the safety criteria are also complied with.drylin® 7th axis for robots
THE alternative to PTFE Trackless Cables
Easily integrate into your application by fitting CFCLEAN or e-skin flat pods. Length and width can be changed as required. Resource-friendly and service-friendly due to easy interchangeability of each individual element.Stranded structure CFCLEAN with e-skin® flat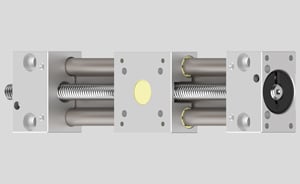 Linear module: 35% narrower design
The powerful yet slim SLW-BB-1030 is the most compact linear actuator in size 10. Suitable for all lead screws with ø10 with efficient dryspin® high helix thread as well as self-locking trapezoidal thread. For pitches from 2 to 50mm.drylin® SLW-BB-1030
This is where igus® is hiding
High-powered electric cars in the Formula Student
In the design engineering competitions for students, participants are increasingly competing with pioneering electric drives. Our yes initiative (young engineers support) supports the young designers with modern bearing technology and components. A number of projects have already been set up together.
Learn more
8th vector award 2022 launched
Bold applications with e-chains® and cables sought

Modern plastic energy chains have been ensuring the safe, reliable supply of energy, data, signals and media while remaining in continuous motion for 50 years. The vector award recognises unique applications with energy supply systems. These applications can be implemented with multifaceted energy chains and cables.
The winners will be selected by an expert jury composed of members from the fields of science, specialist media and associations and will be awarded in 2022 (25-29 April 2022) at the Hannover Messe Industrie. The deadline for submissions is 11th February 2022.
Insights from the igus® lab
The world's largest test laboratory for moving cables
We give a guarantee* with confidence on our cables of up to 36 months, because with over 30 years of experience and 700 parallel tests we can make reliable predictions about the service life of our cables. Take a look at our technical centre.